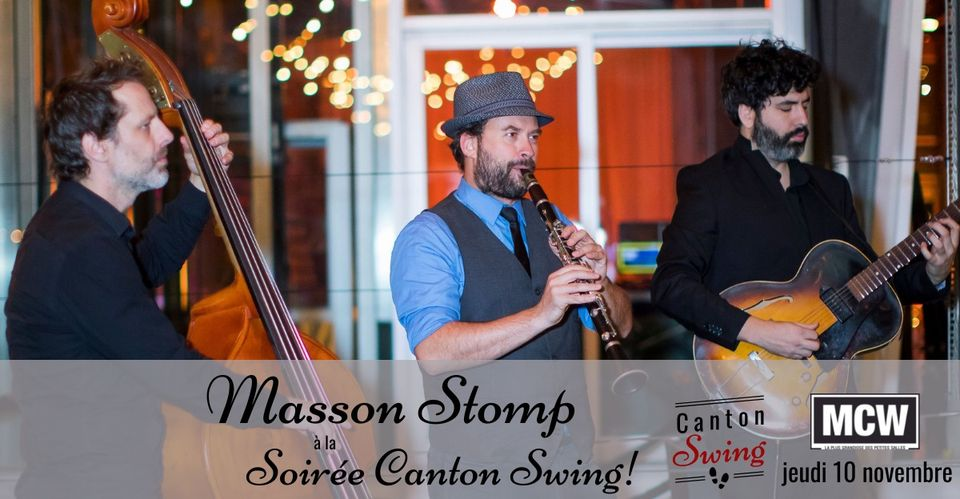 Un voyage dans le temps vers la Nouvelle-Orléans des années 1920 à 1940, voilà ce que vous propose Masson Stomp. Maîtrisant les styles du jazz traditionnel et swing, le groupe vous fait découvrir leurs compositions originales influencées de ce répertoire ainsi que de grands classiques du jazz du début du 20e siècle.
Venez danser sur de la musique live à la troisième soirée Canton Swing! avec Masson Stomp.
Les musiciens seront: Jean-Sébastien Leblanc à la clarinette, Michaël Cotnoir à la guitare et Mathieu Roberge à la contrebasse.
La Maison de la Culture de Waterloo nous accueille et co-produit cet événement avec l'école de danse Canton Swing. Il y aura un cours d'introduction à la danse Swing à 19h00, puis le groupe de musiciens nous fera danser dès 20h00. Un service de bar sera disponible. Vous pouvez venir pour écouter seulement, ou pour danser.
• Quand: Jeudi 10 novembre 2022 à 19h00. (cours d'intro) Band: 20h00.
• Lieu: Maison de la culture de Waterloo – 441 rue de la Cour, Waterloo, QC.
Entrée: 20$ à la billetterie ou par téléphone au 450-539-4764. Des frais de 4$ par billet seront ajoutés aux achats effectués par internet.
Les portes ouvriront à 18h30.
Come dance to live music at the third Canton Swing evening ! with Masson Stomp.
The musicians will be: Jean-Sébastien Leblanc on the clarinet, Michaël Cotnoir on guitar and Mathieu Roberge on double-bass.
La Maison de la Culture de Waterloo hosts and co-produces this event with the Canton Swing / Swing Township dance school. There will be an introductory course to Swing dancing at 7PM, and the band will play for us starting at 8PM. A bar service will be available. You can join us for listening only, or to dance.
• When: Thursday, Novembre 10th 7PM. (intro course) Band: 8PM.
• Where: Maison de la culture de Waterloo – 441 rue de la Cour, Waterloo, QC.
Admission: $20 at the box office or by phone at 450-539-4764. A fee of $4 per ticket will be added to purchases made online.
Doors will open at 6:30 pm.
Voir l'événement Facebook: https://www.facebook.com/events/653710916352820
Réserver vos billets en ligne: https://reseau.ovation.ca/pesite.asp?CodeRepresentation=0G00T0&CodeSiteClient=00001P