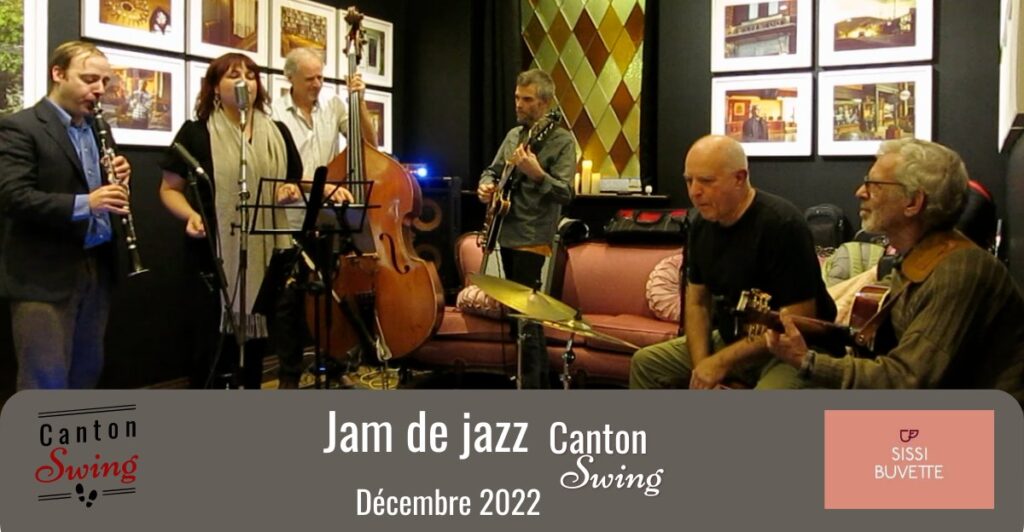 Les jams de jazz Canton Swing sont une occasion de jouer de la musique jazz en bonne compagnie! Venez manger, danser, boire et jouer de la musique. Les musiciens du groupe maison seront: Claude Prud'homme (guitare), André Lafleur (contrebasse) et Alexandre Quessy. (clarinette) Apportez votre instrument et les titres des morceaux de jazz que vous souhaitez jouer ou chanter.
Date: jeudi le 22 décembre 2022 de 18h00 à 21h00.
Lieu: Sissi Buvette – 5140 rue Foster, Waterloo, QC, Canada.
Prix: Gratuit
The Canton Swing jazz jams are an opportunity to play jazz with some great people! Join us to dance, eat, drink and play music. The musicians of the house band will be: Claude Prud'homme, (guitar) André Lafleur (double-bass) and Alexandre Quessy (clarinet). Bring your instrument and the titles of the jazz tunes you want to play or sing.
Date: Thursday, December 22nd, 2022 from 6PM to 9PM.
Location: Sissi Buvette – 5140 Foster St, Waterloo, QC, Canada.
Price: Free